Rebuilding Kuala Lumpur.
Yap Ah Loy's success in building Kuala Lumpur may have seemed to be easy and inevitable. But in reality, it was a desperately harsh struggle of which success was not guaranteed.
The once prosperous Kuala Lumpur was completely destroyed during the civil war. When Davidson visited Kuala Lumpur in 1875. he wrote that "most of the mines were completely flooded out during the last war and all their mine houses, machinery and property were burnt, or otherwise destroyed. After the fighting was over they had to reconstruct their mines with borrowed money which has not been paid off. Their creditors are now pressing them and traders will scarcely give them any credit."
The Chinese would have abandoned the devastated Kuala Lumpur had not been for Yap Ah Loy's persuasion and perseverance in rebuilding Kuala Lumpur. Swettenham remarked that Yap Ah Loy's "perseverance alone, I believe, has kept the Chinese in the country."
In order to rebuild Kuala Lumpur and restart tin mining, Yap Ah Loy needed a large labour. With the restoration of law and order, some Chinese had begun to return. Yap Ah Loy also actively brought in labour from Klang, Sungei Ujong and China. In early 1875, he brought in 2000 miners from Klang and 600 from Sungei Ujong.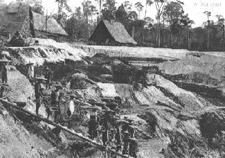 Picture of miners, the mine pit and their attap houses.
With a labourer costing between $80-$100 annually in wages and food, and the need for a year's maintenance before any money can be recovered from the sale of tin, Yap Ah Loy faced severe financial difficulties. Until 1879, the price of tin was mired at the range of $50-60 per bahara, under the impact of new low cost production in Australia.
Yap Ah Loy faced the two main problems of raising the capital to finance mining and reducing the costs of production by obtaining cheaper supplies and improving communications. When the Malaccan merchants took the opportunity to raise the prices of supplies, Yap Ah Loy, with Davidson's sponsorship, began to import supplies direct from Singapore. Davidson arranged for a Selangor Government guarantee that enabled Yap Ah Loy to purchase an initial supply worth $10,000 from Guthrie & Co. Although Yap Ah Loy undertook to sell all his tin through Guthrie's, and to repay Guthrie's loans with the sales proceeds, Yap Ah Loy in effect repaid Guthrie's enough to maintain the loan at $10,000 and sold the rest of the tin elsewhere.
| | |
| --- | --- |
| Financiers | Interest Rates charged per annum |
| Malaccan merchants | 18% |
| Guthrie & Co. | 15% |
| Selangor Government | 10% |
At the same time, Yap Ah Loy encouraged the Malays to plant padi so that a cheap local source of rice would be available to town's population.
From 1875 to 1878, Yap Ah Loy became increasing hard-pressed as tin prices remained low. In 1878, the Resident, Douglas, reported that "the Captain China's power does hang by a thread as he is on the verge of bankruptcy."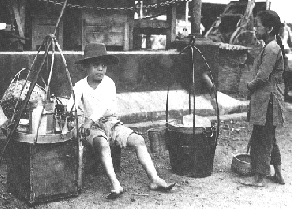 A boy hawking his wares.
By the middle of 1879, Yap Ah Loy's fortunes reversed when by less a stroke of good luck and more a boom in the demand for tin, tin prices doubled and rose above the $100 per bahara level. By mid 1880, Yap Ah Loy had paid off all his debts and was never to be in financial distress again.
Yap Ah Loy's success in rebuilding Kuala Lumpur was confirmed by its naming as the state capital in March 1880.