His Death.
In 1884, Yap Ah Loy began planning to visit China. He proposed to appoint Yap Ah Shak and Chew Ping to manage his property in his absence. His journey was delayed for several reasons, including a storm on 1 September 1884 in which 14 houses and a wing of the newly erected Police barracks were blown down. The storm also did some damage at the Residency and its flagstaff was blown down.
At the end of 1884, Yap Ah Loy fell ill, with bronchitis and an abcess of the left lung. He rejected the use of Western medicine and instead relied on traditional Chinese medication from his medicine shop.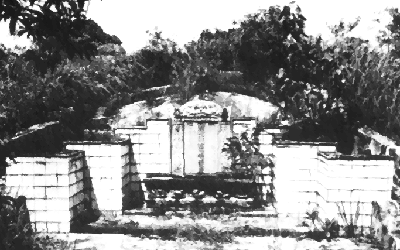 Yap Ah Loy's grave situated in Kuala Lumpur
In March 1885, he seemed to be recovering, but in the morning of 15 April, he passed away. He was 48 years old.
Yap Ah Loy had died before seeing his Kuala Lumpur become the leading town in Malaya by 1886.
Yap Ah Shak and Chew Ping, "the most intimate and trusted friends of the late Capitan", became the administrators of his estate, and Yap Ah Shak succeeded him as the new Kapitan Cina.
The following passage appeared in the Selangor Journal in 1893,
"The wish of his heart was to return to China, but who can tell Heaven's reasons for opposing the desires of men. He passed away ...... The English learnt he was dead by the flag flying at the Residency; for God, whose power to give honour to His servants is beyond our knowledge, on that day struck and broke the flagstaff. When the English found this, they dared not raise the flag again. They held a meeting and determined to be present at the funeral and follow to the grave.
Nonetheless the State continued to prosper greatly.
The tale is finished. May it be well mentioned in future ages! I am a writer of little knowledge, but others of greater skill may complete the lines and round the verses. Should such a man complete this work may he long prosper and his good name go down to his decedents.
This is the whole story of Capitan Yap Ah Loy."
Thanks for visiting us, why not leave a message for us at the Feedback Page?