Raja Mahdi regains Klang.
From then on, peace in Selangor deterriorated until 1866, when open fighting broke out in Klang between Raja Abdullah and Raja Mahdi. Raja Mahdi had returned to Klang as a trader in opium and other goods. He became unhappy over the small monthly allowance given by Raja Abdullah to him. Since he was the son of the former ruler of Klang and grandson of Sultan Muhammad, he thought he should have at least half of the revenue of the district.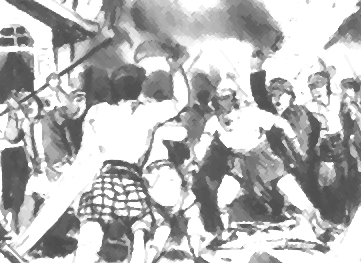 Battlescene of Malay soldiers
The final spark came when Raja Mahdi imported two chests of opium to sell to the miners in Kuala Lumpur. Raja Abdullah levied a tax of a hundred dollars on it, but Raja Mahdi claimed he had paid it to the Raja's tax collector. In addition, Raja Abdullah had also infuriated Dato Dagang, Raja Abdullah refused to pay blood money when a Bugis Malay killed a Sumatran Malay over a quarrel.
Raja Abdullah, like the Sultan and other chiefs was a Bugis Malay, he occupied the coast and the lower reaches of the Klang River, beyond that, the river was controlled by the Sumatran Malays under Dato Dagang. Dato Dagang controlled the trading in the interior, but his goods were liable to taxes by the Bugis chiefs who resided at the river mouth. Moreover, the two groups harboured an old feud, the ancestors of the Sumatran Malays had fought the Bugis over the control of the Selangor state during the long wars of the 18th century.
When Raja Abdullah did not settle the grievance, Dato Dagang appealed to Raja Mahdi for assistance, they soon combined forces to attack Klang. The fighting lasted for 5 months, and ended with Raja Mahdi taking control of Klang, while Raja Abdullah and his family were allowed to leave Klang for Malacca.