The Death of Sultan Muhammad.
In 1857, Sultan Muhammad died without appointing an heir to the throne, this raised the tricky issue of finding an heir to the throne from amongst the members of the royal family. By the Malay custom of the son of a royal wife taking precedence over the sons of other wives, Raja Mahmud would be the legitimate heir. However, he was only a young boy then and was unable to exert his right. Sultan Muhammad's older and more competent sons, Raja Laut and Raja Sulaiman were sons of concubines, the Sultan's sons-in-law, Raja Jumaat and Raja Abdullah, were from the Riau branch of the family, hence they were all ineligible. This left Raja Abdul Samad, the nephew and son-in-law of the late Sultan, as the candidate with the strongest contention.
Raja Mahmud's mother, Tunku Puan Basik, pressed her son's claim, saying that the Sultan wanted Raja Mahmud to take the throne, while Raja Abdullah and Raja Abdul Samad be appointed the Raja Muda and the Panglima Besar respectively. This dispute lasted for 3 years.
Raja Jumaat and Raja Abdullah became convinced that they could become the power behind the throne if they supported Raja Abdul Samad to take the throne. In 1859, with the two Rajas' support, Raja Abdul Samad became the next Sultan of Selangor, though unlike his predecessors, he was not installed formally by the Sultan of Perak.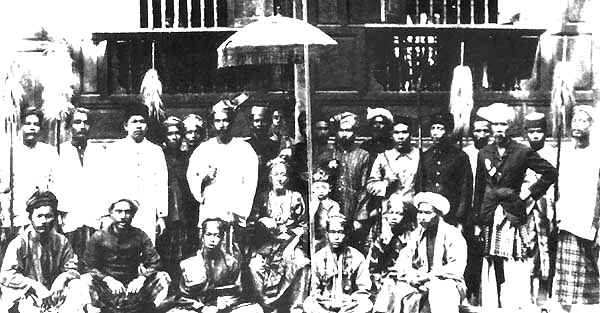 Sultan Abdul Samad (the seated elderly man in the centre) and his retinue
By now, Sultan Abdul Samad was an old man, and was contented with retiring to Ulu Langat. He left his son Raja Musa, who was 15 year old, in charge of Kuala Selangor. Meanwhile Raja Jumaat died in 1864, leaving two weak sons, Raja Bot and Raja Yahya, to inherit Lukut and keep peace in Selangor.